How to figure out which is the right radiator for my car?
Oct 22, 2020 by AlloyWorks I Radiators & Auto Parts
Almost all radiators of AlloyWorks are direct-fit all aluminum (minor to no modification). These high performance radiators are the ideal choice for high-output vehicles, racing cars, and hot rods.
So how do you figure out the right radiator for your car? First, enter your car's year, make, and model into the search bar on the AlloyWorks website. Then, look up the compatibility table of the radiator description to confirm whether it is fit your car.
Now, the core size is very important. We highly recommend that you measure the exact height/width of the radiator you're using in your car right now. It's a bit of a hassle but it's worth doing to avoid buying the wrong model and having to go through whole the exchange/refund process. The inlet/outlet location, and whether transmission oil cooler is included or needed are also important to know for choosing the right radiator.
Most AlloyWorks models are available for purchase as a radiator only or as a radiator + fan + shroud + relay package. Whether you're running an electric or mechanical fan, you should always install a fan shroud that will cover as much of the core as possible, as the fan shroud will pull air through the entire area surrounding the radiator core. The fans assembled on AlloyWorks radiators are curved blades fans and can be used as a puller or pusher(you can reverse it by flipping the fan and switching how the wires are hooked up). You should know that a push style fan can block airflow as you're going down the highway (producing 75% of the cfm).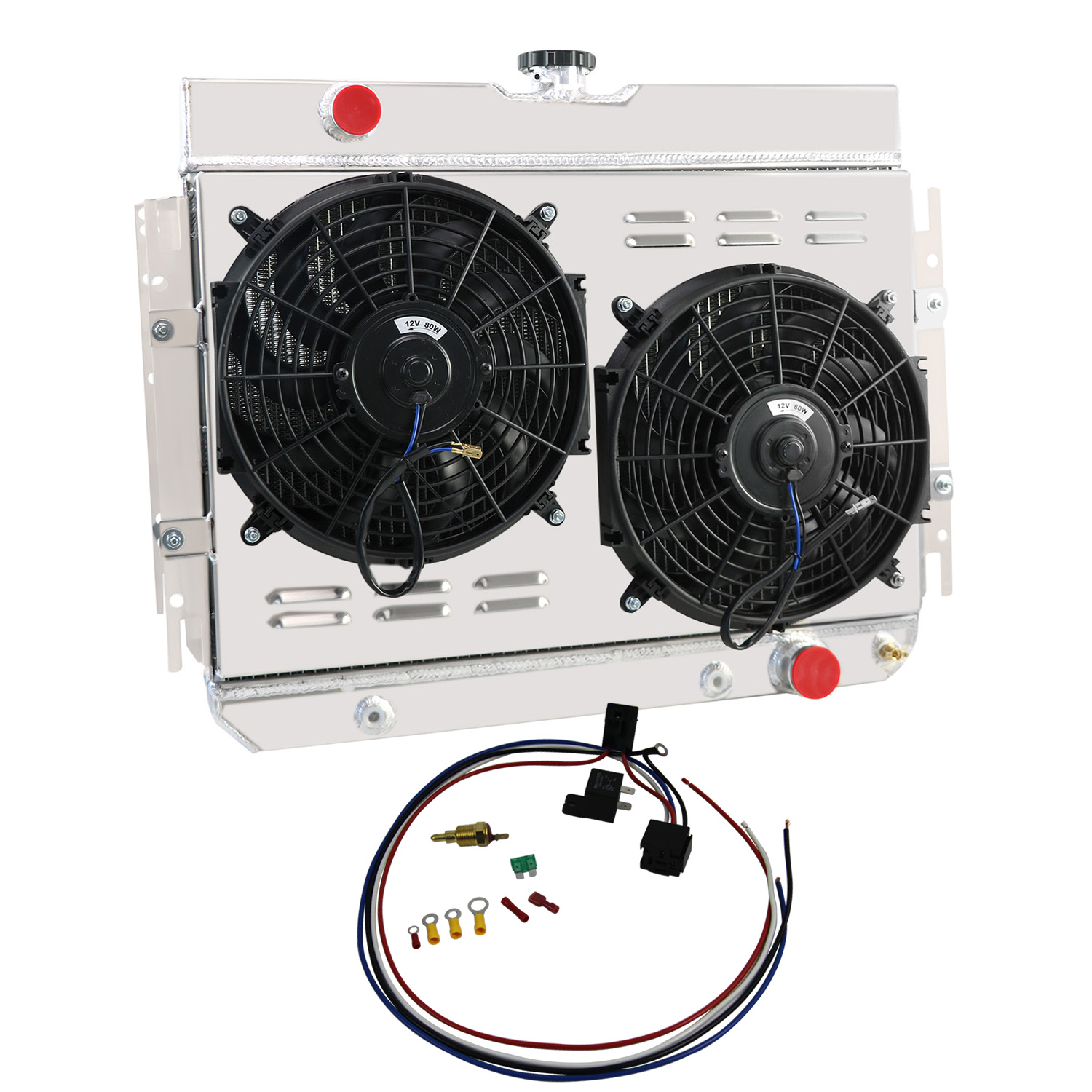 The core of AlloyWorks radiators is welded into a vacuum brazing furnace, with no epoxy. They're 100% TIG welded. They are stronger and have a higher capacity for coolant than OEM units. They are invariably made from high quality full AA5052 aircraft grade raw aluminum.
Lastly, the High Quality all Aluminum Radiator is at least 35% to 45% more efficient than stock models. They're light-weight, and the high-heat conducting aluminum features a tube and fin design that dramatically increases surface area which enables the heat to dissipate more efficiently.