STRENGTHEN COOLING For 93-02 Chevy Camaro Pontiac Firebird5.7L V8 4 Row Radiator Shroud Thermostat -120W
MC2365DZFSXJ120W-BN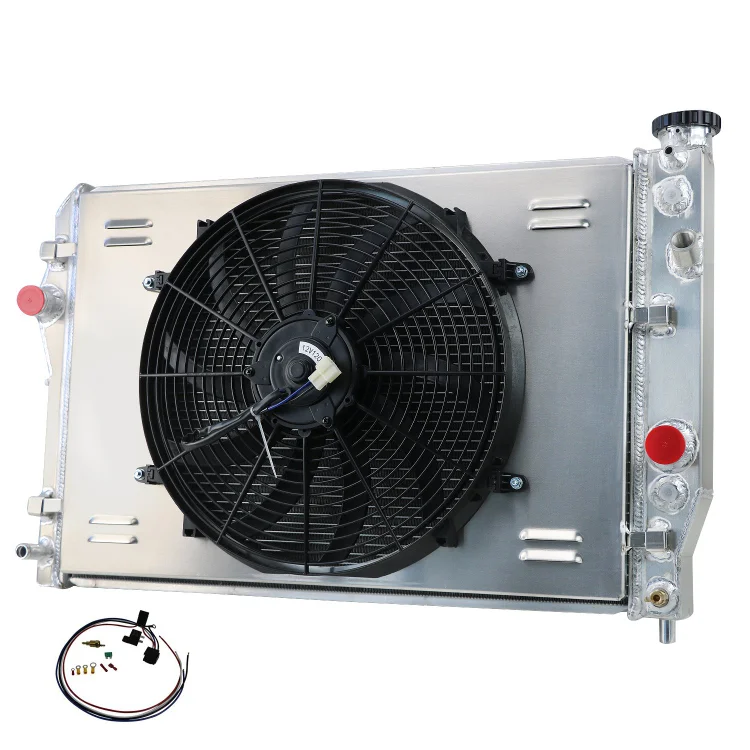 STRENGTHEN COOLING For 93-02 Chevy Camaro Pontiac Firebird5.7L V8 4 Row Radiator Shroud Thermostat -120W
MC2365DZFSXJ120W-BN
Application:
For Pontiac Firebird/Trans AM 5.7L V8 Engine 1993-2002
For Chevrolet Camaro Z28 5.7L V8 Engine 1993-2002
Please Notice:
To confirm that this part fits your vehicle, enter your vehicle's Year, Make, Model, Trim and Engine in the Compatibility Table. Also review the notes section in the compatibility chart for additional specifications about this part.
The motor power is 120W.

This Radiator Size:
Material:Full Aluminium
High Performance Racing Spec.
4-Row of tubes Core Racing Design
Radiator Flow: Cross Flow
Core Dimension (H x W): 17 3/4" x 25"
Overall Dimension (H x W): 20 1/2" x 29 5/8"
Hose Locations: IN: Passenger / OUT: Driver
Hose Fittings: IN: 1 1/4" - OUT: 1 3/8"
Trans Cooler: YES
Mounting Type: Pin Mount
Please Check the Size Before You Buy!
Fan Specification:
Diameter : 16'' (Blade to Blade)
Voltage: DC 12 Volts
Wattage: 120W
Number of Blades: 10 S-Type blades
Maximum Fan CFM(Cubic Feet per Minute): 3,000 cfm
Maximum Fan RPM(Revolution(s) Per Minute): 2000±10%
Amp Draw: 10amp
Fan Thickness: 3.27"
S-Type Blade pull push design, to make air flow more efficient and bring more cooling Effect
Powerful 120 watt motor will keep your engine cool.

Description:
This aluminum radiator is designed to provide maximum cooling efficiency to prevent premature engine failure. Its light-weight, and high-heat transferring aluminum features a tube and fin design that, dramatically increases surface area that enables the heat to dissipate more efficiently. This Aluminum Radiator is at least 40% more efficient than stock ones. Most importantly, it has a much higher capacity for coolant than stock ones, which means that your cooling system will be more efficient and will be more resistant to temperature surges in racing applications.
Brand new, never used & good quality,All Aluminum For Better Performance Better Heat Exchange,Increase 30%-40% cooling than OEM radiator,handles high revving motor End Tanks are made from high quality sheet metal, not plastic like OEM Professional installation in highly applications.
Shroud+Fans:
The fan and the fan shroud effectively drive the heat over and out the engine compartment rather than thrusting it into the front of the engine. The fan shroud basically houses the fan blades securing it in place and keeping it from damaging the other engine components that may disturb the smooth and even operation of the engine. With excellent operating temperature management, allowable levels of engine temperature are stabilized. Investing in proper maintenance though will considerably benefit the ride and driving quality in maintaining the ideal working conditions of the engine.
Thermostat Relay Kit:
Universal fit for any automotive vehicle and electric fan.Activates by grounding electric fans at preset temperature.180'F turn-on temperature, 165'F turn-off temperature.3/8" NPT thread-in brass probe w/ 1/2" NPT adapter included.Probe typically threads into radiator, water outlet or manifold.

Aluminum plate is pressed, high quality and durable.

THE PROBLEM WE WILL HELP YOU SOLVED OUT
How about your delivery cost?
- Free shipping within the United States (exclude remote areas Alaska, Hawaii, Puerto Rico, Guam, Virgin Islands)
Shipping cost is USD160 for Alaska, Hawaii
The delivery cost will be automated calculated in your shopping cart after you enter your state. It depends on the automatic calculation of weight and package sizes by reference to the destination. The calculation results are different under the same weight in different areas.
If the item damaged, stolen, we will contact the corresponding shipping company for a refund or redelivery.
Where the product can be delivered?
Currently, we only ship to US addresses. All product is stocked in our US warehouses, and all products will be directly shipped from our US warehouses.
Undeliverable areas: Guam, Puerto Rico, pr address and military address.

Which carrier will be used and the estimated shipping time?
We use UPS or USPS or FedEx depending on your location and the fastest available service. The estimated shipping time is 3-9 days.
Due to the current Covid-19 pandemic worldwide these are only estimates. We will always use the fastest option to get your order to you as quickly as we can, but there are factors beyond our control that may delay your order.
How do we ship your orders?
We ship out the order within 2-3 days after payment. There will be a tracking number after we ship the order, tracking number will be sent to your email.
We will ship them to the shipping address you left, please make sure your address and receiver name are correct (Notice: PO Box address is not accepted).
In the unlikely event that you do not receive your order, please contact us so we can order a replacement or give you a gift/discount code to make things right! Please wait 4 weeks before contacting us if you do not receive your order.
How about changing your shipping address?
During Contact Center Hours: For the first 60 minutes after the order is placed, buyers can change shipping address by calling our customer service department at +86 15221202562 or e-mail us at cs@alloyworksplus.com. After 60 minutes your order is too far along in the shipping process to change it.
Please note – orders placed outside of our customer service department hours cannot be changed as our customer service team is not available to cancel the order. Orders placed outside of Customer Service Hours are sent directly to our fulfillment center to be packaged and shipped.
Outside Customer Service Hours: Mon - Fri: 2 pm - 10 pm EST
If you cannot pick the unit up from the original address, the carrier will attempt to deliver up to 3 times and then hold your package at the closest FedEx or UPS office for 5 days.
If you cannot pick it up there, it will be sent back to our warehouse.
How can I track my order?
Once your order has been shipped, you'll receive a confirmation email with the tracking information. Should you come across any issues with tracking your package, please feel free to reach out to us at cs@alloyworksplus.com, and we'll work to resolve the issue as soon as possible.
For any issues pertaining to your order,please reach out to us at:cs@alloyworksplus.com
, and we'll work with the mail courier to investigate further into the status of your order.
We stand by our products with a satisfaction guarantee - if you are not satisfied with any AlloyWorks product, simply return the product within 30 days for a full refund. By agreeing to the terms of purchase you also agree to this refund policy.
Contact details:
E-mail: cs@alloyworksplus.com
Tel.: +86 15221202562
Company Address: Room 501, Building 5, No. 115, Lane 1276, Nanle Road, Songjiang District, Shanghai, China
We guarantee the quality of the products of "ALLOYWORKS" for a period of 12 months from the factory date. If there is an issue with product quality or if it cannot be used as it is intended to be used during the warranty period, you can return the product free of charge. We will not, however, assume responsibility for any other fees or losses.
If your product has been damaged with or has leaked. Please email us and send us the video or images of your damaged or leaking products, as well as the order number. We need to be able to clearly view the damaged or leaky pieces in the video or photographs you submitted so that we can send them to the product department for the next step.
As the warranty materials need to be submitted and claimed, please submit the required materials before the expiration of the warranty period.
Before shipping out, all goods have been double verified by alloyworksplus.com. Our test engineer will check for quality, including check the basic function, the appearance, the packing, the necessary accessories.
Unfortunately, if any of the following apply, your order will not be covered by our warranty.
(1) The product has been disassembled without authorization and/or reassembled or reconstructed thereafter;
(2) Damage to the product were caused in the installation process;
(3) The product was not used according to the instructions in the installation and maintenance manual, or the product is damaged by human factors.
(4) The damage is not caused by our quality problems.
(5) Goods purchased by you on non https://www.alloyworksplus.com/ websites.
(6) Goods purchased for more than one year.
(7)There may be some deviation in manual measurement data.


Please note that because aluminum is a metal, it will oxidize over time regardless of how difficult it is to oxidize it. That's also dependent on usage habits and the atmosphere.